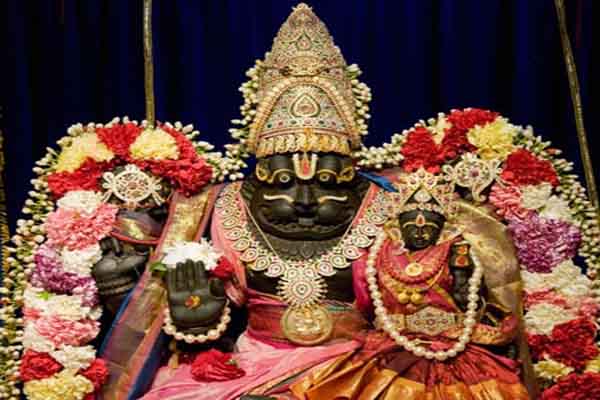 Tarigonda Sri Lakshmi Narasimha Swamy
Tarigonda lies at a distance of five to six kilometers on the way from Vayalpadu (Valmikipuram) to Gurramkonda. Tarigonda Vengamamba who was born here brought fame to her village. There are three sasanas in this temple; the first one of 1559 A.D. by Vijayanagar emperor Sadasivadeva Maharaya. It is about the emperor's permission for giving tax remission to Jillela Vengala Rajadeva Maharajamangali and Mahamandale swara Ramarajadeva Maharaya giving his consent for it. It shows that the temple was built by 1557 A.D. it self.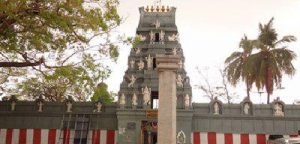 According to the second sasana of 1846 A.D the Homasala and the kitchen pavilion were built by Errappa the disciple of Guru Bhaskaracharya. The third sasana is of 1862A.D; Krishnama Setty built a kalyanamandapa i.e. pavilion for the celebration of God Lakshmi Narasimha's wedding. However, inspite of these sasanas there is no mention as to who built the temple. On the whole it can be considered that it was built in the sixteenth century and that both the temple and the village were built by Rayadurgam Ramanayanims. From a lease document found later it came to light that the sir name of Rayadurgam Ramanayanims was changed to Tarigonda. On migrating to Chittecherla near Bhakarapeta they came to be known as Chittecherla Palegarlu in later times.
Where is Rayadurgam and where is Tarigonda, these places are far apart. The Ramanayanims migrating to this place for grazing cattle, and settling here; Ramanayanim's wife who was churning curds finding the salagrama in it; Lakshmi Narasimha appearing in a dream to a landlord and instructing him to dig out His idol from the earth and build a temple for him; finding a treasure at the time of digging at the site helped in completion of the temple in a perfect manner along with a stepped well; a village coming to be established by the name of Tarigonda; and the God coming to be known as Tarigonda Lakshmi Narasimha! These are all but the God's sport.
Another will of God is the birth of the wise one Tarigonda Vengamamba in this village. It is difficult to say whether she became famous because of the God's blessing or whether the God became well known because of her reputation. Both could be quite possible. The Kanala family came from Kurnool district and settled here. Vengamamba was born to the couple Krishnayya and Mangamma in the Kanala family like an incarnation of Mirabai. Devotion co-born with her. She was engrossed in that devotion. Her parents thought that getting her married would cure her of this madness. They brought a man called Injeti Venkatachalapathi from Naraguntapalem of Chittoor and married her to him. But by then her heart was fixed on Tirumala Venkatachalapathi. She told her husband whose name was also Venkatachalapathi-about her devotion to the God of Tirumala. It was fateful that he should die, and she continued to go about with all the marks of a married woman. The townsfolk were enraged. They appealed to the head of Pushpagiri Pith am who was passing through the town. Vengamamba went to him and asked him to stand aside in order to make obeisance at the Pitham. As she prostrated before it, the Pitham went up in flames. So, looking for the last time at the burnt Pitham the pontiff went away, glad to be left off.
In Madanapalli, Kanala Krishnayya sought the protection of Rupavataram Subrahmanya guru and prayed to him for setting his daughter's life right.The guru took pity on Vengamamba and taught her the secrets of mantra, tantra, yantra and yogasutras. He told her these were but the foundations on which she herself should build the edifice of her devotion. The Hayagriva and Nrisimha mantras set the goal for her. She also began to write a kavya. Vengamamba began her spiritual practices. She found a place behind God Anjaneya in Tarigonda Nrisimha temple suitable for her austerities. One day the temple priest saw her inadvertently and frightened, he dragged her by the hair out of the place. That was the end of her association wit Tarigonda. Vengamamba left the place. She went through the forest in search of Venkatachalapathi. She continued her yogic practices at Mogilipenta Anjaneya Swami temple, and ordained by God she reached Venkatadri. She went about roaming in the main mada streets of the temple. Nobody bothered about her. Atmaramji Mahant of the Hathiramji Math enquired about her and gave her a thatched hut by the side of the rock chariot in front of the Varaha Swami temple to live in. But she did not stay there for long.
Vengamamba went away to the Tumbura tirtham deep in the forest. There she did penance for twelve years in a cave; it is known as Tarigonda Vengamamba Devi; Vengamamba returned to Tirumala endowed with Dreat powers as a great yogini. Perceiving her divinity the Tallapaka family gave her a house which had a courtyard. The Tarigonda Vengamamba matha came to be established thus. An annadana satram was also started. She grew a flower garden by the side of Varaha Swami temple. Her samadhi lies there in that garden. In addition to this garden there was another flower garden and firuit orchard which was there by the side of Ammoru bavi i.е., the well of the Goddess. Vengamamba received about thirty five donations. She used to worship everyday and she celebrated Nrisimha Jayanti in a grand manner. She used to please the god with her verses, songs, plays and especially her yakshaganas-ballets. She also used to offer garlands of delicate flowers and offer five types of food and milk-cooked sweetened rice to the deity. That is why Vengamamba is accorded a place of permanent honour of offering Mutyala harati in Ekanta seva of the God. This honour is enjoyed by the descendants of her family.
Vengamamba used to have eight paid scribes called ashta ghantakas. They used to record her writings, preserve them on palm leaves and propagate them all over the region. Vengamamba's compositions are about eighteen in number. Both the gods Lakshmi Narasimha and God of Tirumala appear synonymously in each of these compositions. Similarly she respected both Injeti Venkatachalapathi and Tiumala Venkatachalapathi in the same manner. However much is written about her compositions remains inadequate.
In 1940 a prominent vysya installed the idol of Vengamamba in the Lakshmi Narasimha temple and thus sanctified Her life. Vengamamba is worshipped everyday. School girls and women teachers pray to Vegamamba on all Fridays at her sajeeva samadhi -at her grave in Tirumala. T.T.D. celebrates her birthday on Nrisimha Jayanti and her vardhanti on the ninth day of Sravana's first fortnight in Tirumala as well as in Tarigonda. Matrusri Tarigonda Vengamamba Literature project has been taken up to study her literature. In addition to the celebrations mentioned above her literature is propagated through print, C.Ds and cassettes. Cultural programmes are also organized. She was born in about 1730 A.D. and the mahasamadhi took place in 1817A.D.
Sri Lakshmi Narasimha temple is surrounded by a high wall; it has a three storeyed tower.The nine day Brahmotsavas are celebrated in great splendor here.This holy place is known for its proclamations of Truth- satyapramanas which people make standing at the balipitham i.e.the place of offerings; this would be accepted even in a court of law for such is the faith in the deity Sri Lakshmi Narasimha.
How To Reach Tarigonda
Tarigonda Temple is 100 Kms away from Tirupati. It is near to Gurramkonda in the outskirts of Madanapalli.
Nearest railway station is at Vayalpadu which is 7 Kms to Temple.