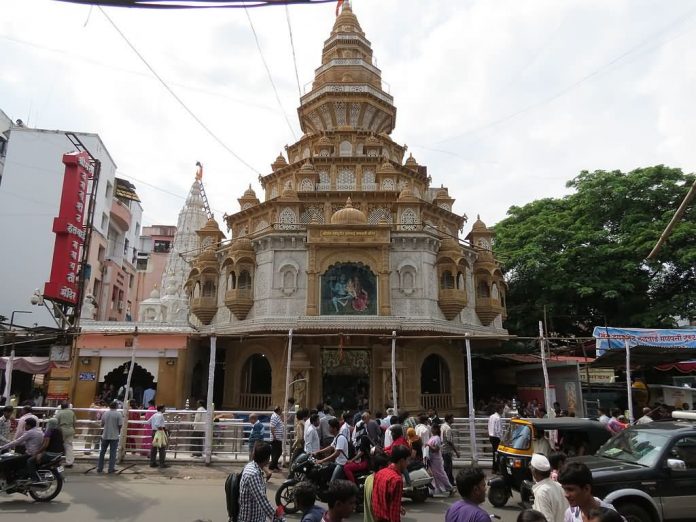 Shreemant Dagadusheth Halwai Ganapati Temple is a Hindu temple dedicated to Lord Ganesh. This temple is located in Pune, Maharashtra. Dagadusheth Halwai Ganapati Temple is very famous in the state of Maharashtra and is visited by over hundred thousand pilgrims every year. People from all over India visit this temple. Devotees of this temple include celebrities and Chief Ministers of Maharashtra, they visit this temple during the annual ten day program of Ganeshotsav. The idol that is now present in the temple is known as Navasacha Ganapati.
About the Temple
The deity of Lord Ganesha was incepted by Shri Dagadusheth Halwai and his wife way back in time, when they lost their son due to plague epidemic. Every year, Ganesh festival used be celebrated with great enthusiasm, not only by the Dagadusheth family but entire neighbourhood. Tatyasaheb Godse, was one of the young and enthusiastic participant of the Ganesh festival at that time. Later, after few years Lokmanya Tilak made Ganpati festival a public celebration to bring people together for the freedom struggle, Dagadusheth Halwai Ganapati became most important place and popular idol in Pune.
Dagadusheth Halwai Ganapati Temple has a history over 100 years. Today, Dagadusheth Halwai Ganapati Temple is not only the place of worship in India but it is also an institution, that is actively engaged in social welfare and cultural development activities through Shreemant Dagadusheth Halwai Sarvajanik Ganapati Trust. The construction of this temple is in such a way that, Lord Ganapathi and all the proceeding of the temple can be seen from outside of the temple. Inside the sanctum sanctorum, the main idol of Ganapati is 7.5 feet tall and 4 feet wide. The main idol of Ganapati is decked up in 8 kgs of Gold. According to the trustees, the Ganesh idol is insured for a sum of Rs. 10 million.
Timings
6:00 AM – 11:00 PM
Darshan for general public- 6:00 AM to 7:30 AM, 8:15 AM to 1:30 PM, 2:00 PM to 3:00 PM, 3:15 PM to 8:00 PM, 8:15 PM to 10:30 PM & 10:45 to 11:00 PM.