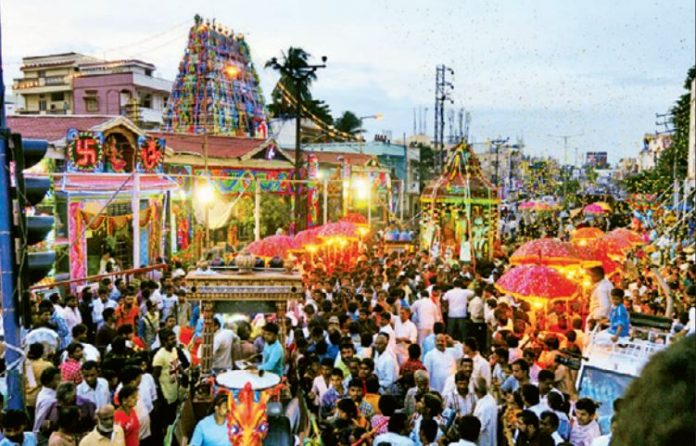 Yellamma Temple is an old and revered temples of Hyderabad. This temple is popularly known as Balkampet Yellamma Temple. The Temple is located at Balkampet, Hyderabad. This Temple is dedicated to Goddess Yellamma – means 'mother of Universe'. There is another name given to the Goddess of this temple, known as Jagadamba.
Balkampet Yellamma Goddess is also considered to be the incarnation of Goddess Kali. The temple was first constructed in 15th century and then renovated in the early 20th century. This temple is considered to be one of the ancient temples of Hyderabad and Telangana. The idol of the goddess is 10 feet deeper than the ground level. There is well in the complex of the Temple, which is considered to be sacred. Most of the devotees believe that, the water of this well can cure any kind of ailment and illness. This holy water is called as 'Theertam'. There is an Akhand Jyothi present in the temple which was lit during the renovation of the temple. The temple complex includes the shrines dedicated to other Hindu gods namely- Sri Pochamma, Rajarajeshwari,, Nagadevta and Lord Ganesh.
Festivals
The most important festival or the event that is celebrated at the temple is Yellamma Kalyanotsavam – marriage ceremony of the goddess.
Bonalu Jatara is also celebrated at Yellamma Temple. Bonalu celebrations at this temple start after Golkonda Bonalu Jatara and Ujjaini Bonalu Jatara.
Timings
6:00 AM to 1:00 PM
3:00 PM to 8:00 PM