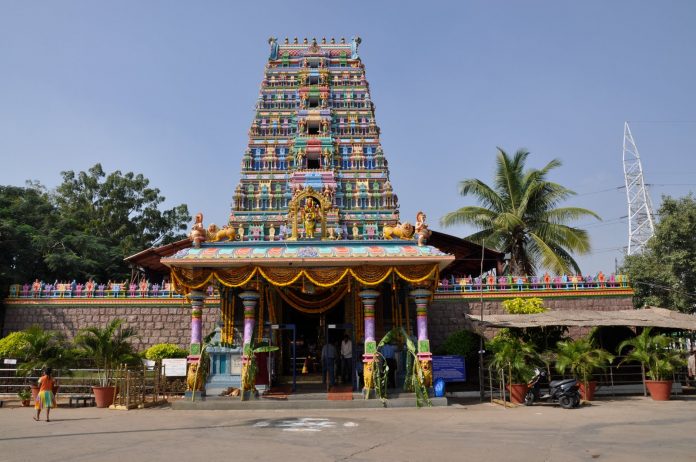 Pedamma Gudi is a Hindu Temple dedicated to Goddess Durga. The temple is located at Jubilee Hills, Hyderabad. This is one of the important religious cites in the city of Hyderabad. Pedamma Temple is said to be 150 years old and the temple took its present structure in the year of 1993 when the Raja gopuram was built.
Festivals
Pedamma Gudi is famous for various festivals. Bonalu is one of the famous festivals celebrated at this temple with great enthusiasm and importance, in the month of June and July. During this festival women across the city carry earthen pot with rice, jaggery, milk and curd, covered with neem leaves and decorated with haldi and Kumkum. A diya is placed on the top of the pot.
The other festival celebrated is Rathotsavam on the occasion of Ratha Saptami.
A special Lakshmi puja takes place on the day of Amavasya falling on Friday. The special puja on this day starts early in the morning around 5:00 AM and the tickets for the puja are to be booked earlier. *(booking – the tickets are given at the temple just a day before the day of puja)
Timings
6:00 AM to 1:00 PM
3:00 PM to 8:00 PM
The temple remains close in the afternoon from 1:00 PM to 3:00 PM