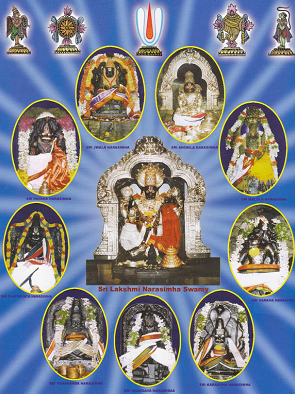 NAVA NARASIMHAS IN TELUGU STATES
Lord Narasimha is one of the 'dasa avatars' of Sri Maha Vishnu. But Narasimha avatar has unique significance, especially in South India. There are a number of Narasimha temples throughout Telugu states. Among them, there are nine significant temples depicting different forms of the Lord. In addition to them, there are a number oh Narasimha temples in both the states. The reason for this is that Lord Narasimha, after killing Hiranya Kashipa, wandered in the forests of these states and ultimately married Sri Mahalakshmi who donned the avatar of Pratyangira/Chenchu Lakshmi (a tribal girl).
Lord Narasimha is worshipped as the 'Great Protector' who defends and protects his devotees in times of their need. There are references to Narasimha in the Puranas. In this avatar God Plunges into action right from the moment he appears.
How Lord Vishnu had to don Narasimha avatar
Narasimha is the fourth incarnation of Lord Vishnu, the preceding one being that of a Boar(Varaha). Vishnu kills Hiranyaksha during his Varaha avatar. Enraged by this Hiranyaksha's brother Hiranya Kashipa wanted to avenge this. He performed penance to please Bramha who offers him the choice of a boon..
Hiranya Kashipa asks for a very tricky boon:that he would not die either on earth or in sky; neither in fire nor in water; neither during the day nor at night; neither inside nor outside(of a house); neither by a human, nor by an animal norby God; neither by inanimate nor by animate objects.
Brahma grants the strange boon. With virtually no fear of death Hiranya Kashipa declares himself to be above all the gods and unleacshes terror on all those who do not accept his supermacy. But his son Prahlad, an ardent devotee of Vishnu, does not flinch from his devotion to Hari. Repeated threats yield no result for Hiranya Kashipa. Prahlad asserts the omnipresence of Lord Vishnu.
God had to come to vindicate Bhakta's faith!
Lord Narasimha had to come out of a pillar to testify the faith of his Bhakth. This is the greatness of his avtar. Whwn Hiranya Kashipa angrily kept demanding Prahlad, "Where is Hari?', his son answered that he is everywhere. Enraged with this answer, his father points towards apillar and asks his son, whether Vishnu is there. Prahlad confidently nods.
It is said that even after the killing of Hiranyakashipa, none of the gods present around were able to pacify Narasimha. So they requestedPrahlad to pacify the Lord, and it was only then Narasimha, returned to a more benevolent form. In some versons of the story, all the gods and goddesses beseechLakshmi, who assumes the form of Pratyangira to pacify the Lord. Before parting, Narasimha crowns Prahlad as king. We can find Prahlad in the lap of Lord Narasimha in some temples.
His killing Hiranyakashipa is very dramatic. Because of Brahma's boon and to bypass all the conditions in the boon, Narasimha drags Hiranya to the threshold of the palace(which is neither outside or inside), selects dusk time (which is neither day or night). He keeps Hiranyakashipa on his thighs(neither earth nor aakash). He disembowles him and kills him with his nails(which are neither weapon nor organs). He himself dons the form of half human and haf lion. Thus, Narasimha had not violated the conditions of Brahma's boon but made them non-applicable.
Below are the details of 9 Narasimha Swamy Temples in Telugu States