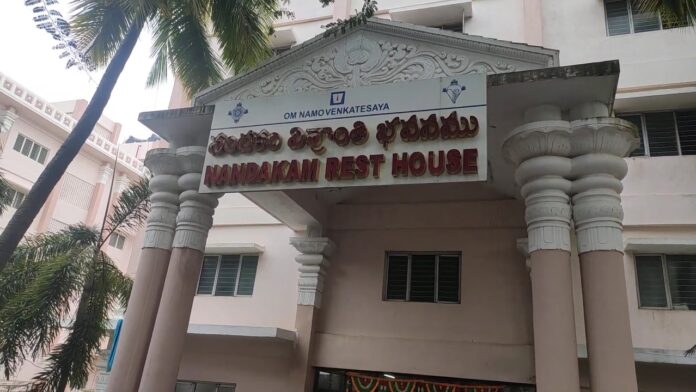 Nandakam Rest House / Nandakam Guest House
Nandakam Guest House is a TTD Accommodation in Tirumala, near to temple. It is one of the accommodation which pilgrims prefer to stay during their visit to Tirumala. It has clean and well-maintained rooms with different facilities like lift, wheel chair accessible, Hot Water Facility, Clean Toilets.  It also has a Kalyanakatta, a place where devotees can shave their heads as an offering to Lord Venkateswara.
Nandakam Guest House To Tirumala Balaji Temple Distance:
Nandakam guest is very near to main temple, it is at a distance of 600 meters. Around 5-10 minutes walk.
It is very near to Tarigonda Vengamamba Free Meals Building, Pushkarini, Varaha Swamy Temple, TTD Employees Canteen, Rambagicha Bus Stand.
How To Book Room In Nandakam Guest House At Tirumala?
If you want to book a room at Nandakam Guest House, there are 4 ways
Book in online through the TTD website
Book in Online through TTD Mobile App
Book in offline at the CRO office in Tirumala. For Offline Booking Process, refer this link – How to Book Room in Tirumala Offline
Get a recommendation letter from MLA / MP and submit it in JEO office.
However, you cannot select the guest house online, only the type of room. The room will be allotted based on the availability in all the guest houses in Tirumala.
Nandakam Rest House Price:
Rs. 1000 for a room with 2 beds and attached toilet (non-AC) that can accommodate up to 6 persons.
If you wish to extend it for 2nd day, you can do so at offline but you will be double charged, hence it will be Rs. 2000 + Caution deposit.
*Caution deposit is refundable.
Facilities At Nandakam Guest House:
Lift
Wheel Chair Accessible
Hot Water
AC / Non AC Rooms
Sofa
Dressing Area
Clean Room and Toilets
Mini Kalyanakatta for Tonsuring / Head Shave
Car Parking
wardrobe
Table
Nandakam Rest House Images: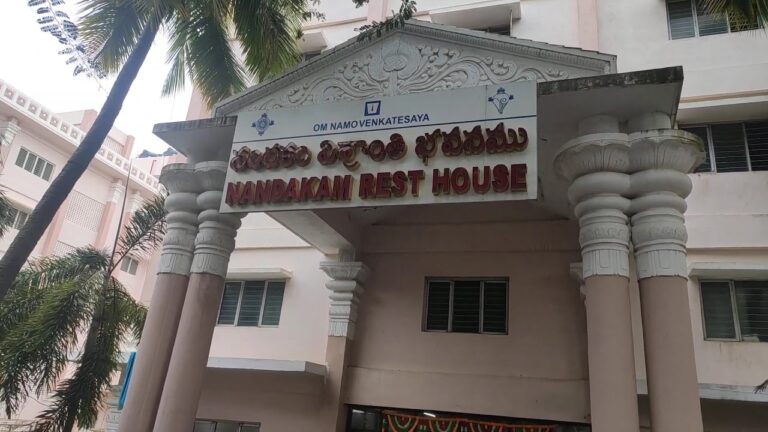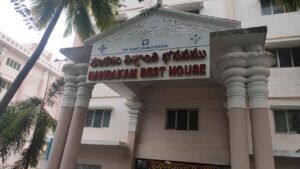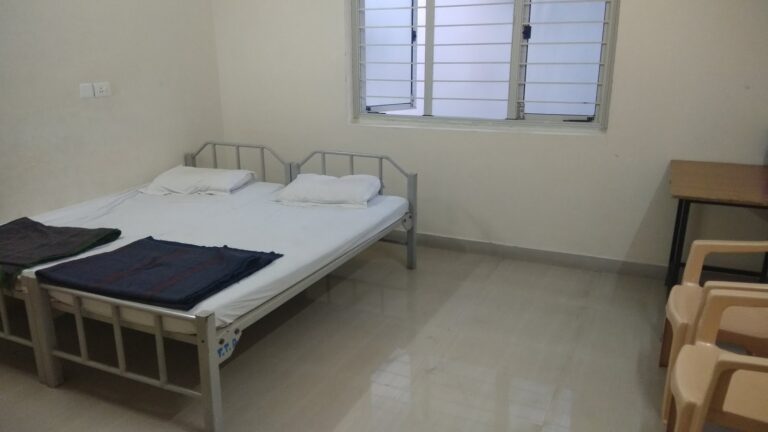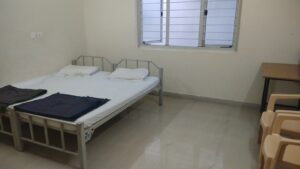 If you have any queries, you can leave your comment below. we will respond as soon as possible.