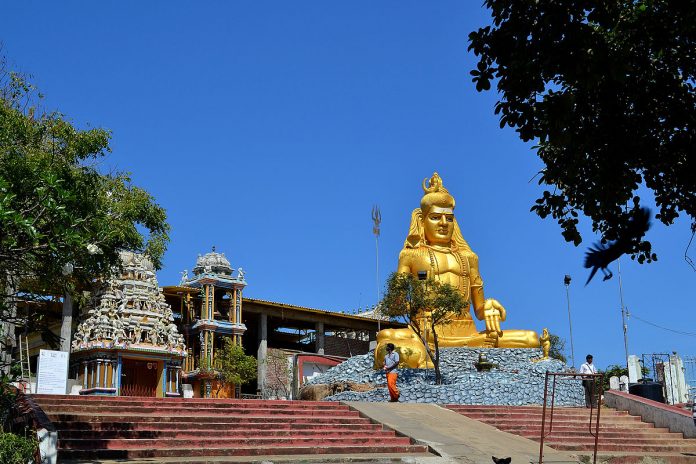 Koneswaram Temple
Koneswaram Temple Trincomalee is also known as Thirukonamalai Konesar Temple. Koneswaram Temple is a Hindu temple situated at Trincomalee, Sri Lanka. The Temple is places on a hilly rock surrounded by sea from three sides. This temple has a history of three millennia and its roots can be found around 1580 BC. Koneswaram gets its name from Lord Shiva, who is also called as Eeshwar, reigns over the mountain of holy konam (Thirukonamalai in Tamil- Thiru means Holy, Konam- name, Malai- mountain). Hence, the temple is known as Thirukoneswar. There is another name given to this temple namely Dakshina Kailayam or Kailasam meaning 'Mount Kailash of the South' in Sanskrit.
History
Koneswaram Temple under went a destruction by the Portuguese. The reconstruction or restoration of the temple happened almost after three hundred years from the date of destruction. There were some statues of Hindu Gods and Goddess which were unearthed- gold statues of Shiva, Parvathi, Ganesha and Mathumai Ammal (the consort of Shiva in his form as Koneswara). These statues had been a part of the festival procession during the destruction of the Temple and were found in 1950. The statues were highly celebrated and reinstalled at the site.
After six years, in the year 1956 the underwater ruins and the original masonry of the temple was discovered by Sir Arthur. C. Clarke. These ruins included many original stone inscriptions, stone sculptures proving the long history of the temple. Most importantly it led to the discovery of the original Svayambhu Lingam. Svayambhu was worshipped in the main room of the shrine. The Lingam of this temple is one of the 69 natural or Svayambhu Lingams of the world. The Lingam is said to be found in Kailash and has been installed at the temple of Trincomalee by Ravana. By regaining the important and main idols and statues, the temple was reconstructed by the Tamil Hindu people of Trincomalee. Finally, the temple was opened on 3rd of March, 1963.
To know more about the temple and its reconstruction: https://lakpura.com/koneswaram-temple
In today's day many people across the World, belonging to different cultures visit this temple.
Festivals
Koneswaram Temple is known for the celebrations of the traditional Ther Chariot festival, Navratri and Shivaratri. The Ther Chariot Festival is celebrated for twenty two days in the month of April and this festival mainly focuses on preparing the deities for Puthandu, the Tamil New Year. Like in India, Navratri is celebrated for nine days.