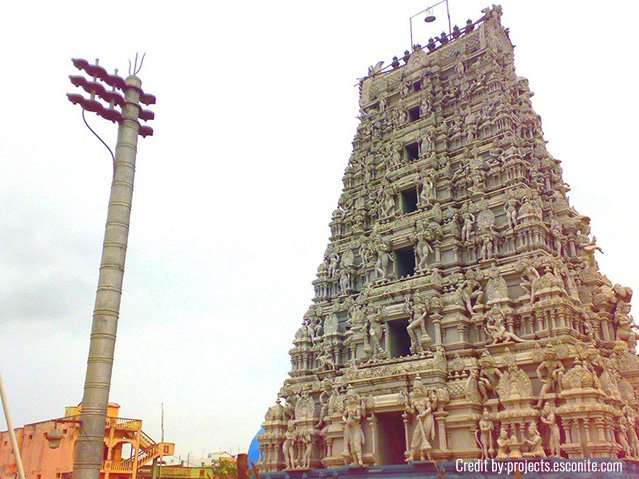 Draksharamam
Draksharamam Temple in located in Draksharamam town of East Godavari, Andhra Pradesh. It is an abode of Lord Bhimeshwara Swamy and Goddess Manikyamba. The other name given to this temple is Dakshina Kaasi Kshetram. Draksharamam Temple is on of the Five powerful temples of Lord Shiva known as Pancharamas in Andhra Pradesh. Manikyamba in Draksharamam is one of the Astha Dasha Shakti Peetas.
Towards the backside of the temple is the shrine of Manikyamba Devi in the left corner. The Goddess is looking towards her left which suggests her, as 'Vamachara Devata'. Lord Vishnu is present along with Lakshmi Devi at the temple as Kshetrapalaka of  Draksharamam Temple. There are many shrines in the main temple complex and they are Praakara Bhairavudu, Viroopa, Natarajeshwar, Vaamana, Visheshwara, Dancing Ganapathi, Dundhi Ganapathi, Goddess Kanakadurga and Goddess Annapurna.
The water from Sapta Godavari Kundam is considered to be very sacred and used to perform puja. According to mythology, 'Sapta Maharishis' divided the Godavari River into seven streams to end their penance. Out of these seven streams Draksharamam, Bharadhwaja, Viswamitra and Jamadagni streams are known as the "Antarvahinis" and are believed to have gone underground. Later, it is said that these streams got merged into a pond known as Sapta Godavari Kundam.
Temple Timings
The Temple opens at 6:00 AM and gets closed at 8:00 PM
Break – 12:00 PM to 3:00 PM
Every month on the day of Masa Shivaratri and every year on the day of Maha Shivaratri, the temple is open through out the day from 6:00 AM to 8:00 PM
Festivals Celebrated at the Temple
Maha Shivaratri is the most important and the big festival that is celebrated at this temple. Shivaratri comes in the month of February and March  and around this time, the marriage ceremony or 'Sri Swamivari Kalyanam' is celebrated or held on the day of Bhisma Ekadashi.
There are other festivals which are celebrated every year at the temple are:
Sarrannavarathri Festival from Asviyuja Suddha Padyami to Dwadasi every year (October)
Kartheeka Monday Festivals and Jwalathoranam in Karteeka masam every year (November)
Sri Swamyvari Birthday on Margasira Suddha Chaturdhasi every year (December).
Shasti Festival in the Month of December
Different Puja's and Rituals Performed at the Temple
Abhishekam/Kumkumarchana
Ekadasa Rudramu
Abhishekam Ticket(Monthly)
Kumkumarchana at the time of Dasara Festival (For 10 days)
Abhishekam at the time of Dasara Festival(For 10 days)
Japam/Tarpanam /Nava Varaarchana
Ashtotthara Kumkumarchana
Keshakhandana
Abhishekam (Every Monday)
Kumkumarchana Ticket(Monthly)
Laksha Patri Puja
Nomulu / Aksharabhyasam / Annaprasana
Laksha Kumkumarchana
Mahanyasa Purvaka Abhishekam
Laksha Vattula Nomu
Laghu Vyasa Poorvaka Eka Vaara Abhishekam
Masa Shivaratri Abhishekam (Every month)
Nitya Samuhika Abhishekam, Kumkumarchana(For One Year)
Masa Shivaratri Kumkuma Puja (Every month)
Nitya Kalyanam
Puja (Every Friday)
Rudra Homam
Surya Namaskaramulu
Sahasra Kumkumarchana
Special Darshan Ticket (On Festivals)
Sthala Puranam
Sri Swamy vari Archana
Upanayanamu
Ubhayam at the time of Dasara
How to Reach the Temple
By Air- the nearest airport to the temple is the Rajahmundry Airport and it is at a distance of 50 Km from the temple.
By Train- there are various railway stations which are near to the temple and they are Kakinada, Rajahmundry and Samalkot junction.
By Road- the temple is well connected with the neighboring cities by road. The temple is situated at a distance of 50 km from Rajahmundry, 28 Km from Kakinada and 6 Km from Ramachandrapuram. It is not difficult to reach the temple as there are buses available every now and them from the nearest cities.