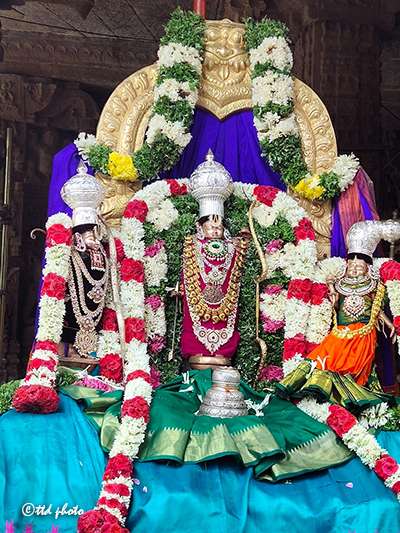 Vontimitta Kodandarama Swamy Temple
Once this place Vontimitta was a dense forest and many sages were living there. They were disturbed at the time of sacrifices 'yagams' by the Rakshasas. At that time, sage 'mrukandu' and other sages prayed to Sri Rama to come and protect them. As Lord Rama was in Dandakaranya, the Lord immediately came with Sita and Lakshmana and punished the Rakshasas. The sages were happy and requested Sri Rama to stay there only permanently but Rama proceeded further to fulfil his father's promise. As Lord Rama, Sita and Lakshmana were carved from one stone it is called 'Ekasilanagaram'. The chola, Vijayanagara and matla Rajas constructed the temple in three phases from 11th century to 17th century. A king of Udayagiri Kamparaya also constructed the Sanctum Sanctorum and in 1356 the founder of Vijayanagar Empire Bukkaraya inaugurated the temple.
Temple Timings
05:30 AM to 1 PM and 2 pm to 8 PM
Temple sevas and Timings
Suprabhatham – 5 AM to 5.30 AM
Sahasranama Archana: 4.30 AM to 5.00 PM
Abishekam: 5.30 AM to 6.30 AM and 4.00 PM to 4.30 PM
Alankaram, Archana: 6.30 AM to 7.00 AM
Sarvadarshanam: 7.00 AM to 4.00 PM and 5.30 PM to 8.00 PM
Ekantha Seva: 8.00 AM to 8.15 PM
Lalitha Sahasranama Archana: 5.00 AM to 5.30 PM
Ticket cost:
Antharalaya Darshnam: Rs.50
Abhishekam: Rs.150
Naivedya Pooja: Rs.500
Kalyanotasavam: Rs.1000
Saswatha Abhishekam: Rs.1116
Pushpa Kanikaryam: Rs.1500
Sri Sita Rama Kalyanotsavam on Sri Ramanavami
Lord Rama was born in Chaitramasa suklapaksha Navami which is celebrated as 'Sri Rama Navami'. It is tradition to celebrate Sitaramakalyanam on Sri Rama Navami in Abhijith Lagnam at noon in all Sri Rama Temples. But in Sri Kodandarama Swami temple in Vontimitta Sita Rama Kalyanam will be performed on the Chaitramasa Suklapaksha Chaturdasi at night a day before full moon day. Sri Ramachandramurthy blesses the devotees in the moonlight.
There is a legend for performing the Sri Sitaramakalyanam in the night instead of the noon. Sri Rama is fond of Chandra i.e., moon in his childhood and he will not eat without looking at moon. Moreover Chandra also likes Rama. As the Kalyanam of Sri Rama took place at noon, Chandra has no opportunity to watch the kalyanam and became sad and unhappy. Knowing that Sri Rama consoled the Moon and promised to give three vows.
The first one is that the name of Chandra will be added to his name and he became Sri Ramachandra. The Second Vow is that in his next incarnation, he will be born in the night (Sri Krishna was born in the Night) and the third one is that in Kaliyuga his Kalyanam will be celebrated in the night. As per his promises, the Kalyanam in Vontimitta is celebrated a day before the full moon day i.e., Pournami, where the Moon showers his light in an eclat way.
This Temple is under TTD administration. The Brahmotsavam of Ramanavami is celebrated on a big scale and Government of A.P. has recognised this temple as state of A.P. Temple. The Chief Minister comes on the Brahmotsavam Day and offers sacred silk clothes on behalf of A.P. State Government.
How to Reach
Nearest Airport is Kadapa which is 35 kms to temple. Tirupati Airport is 113 kms to Temple.
Frequent Buses are available from Kadapa / Tirupati.
Nearest Railways Station is Vontimitta and kadapa which is 26 kms to temple.
Address
Sri Kodandarama Swamy temple, Vontimitta, Kadapa district, 516213, AP.