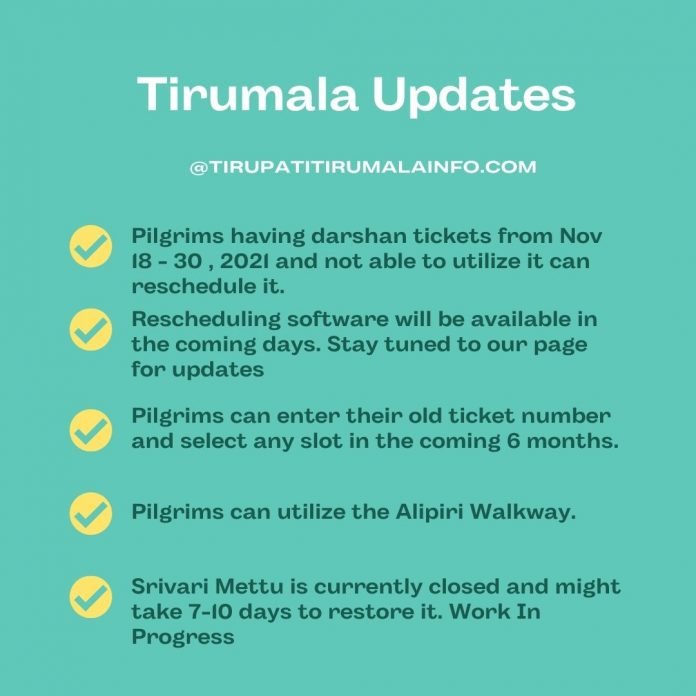 Tirumala Darshan Update For Nov 18 – 30
Due to heavy rainfall in Tirupati, Tirumala and various parts of the South India, Pilgrims who had booked their darshan tickets for Nov 18 – 30 and not able to utilize it can come on a later date by rescheduling the ticket. Pilgrims are requested to utilize this opportunity and plan their trip for a later date.
For Rescheduling Information, please refer this page – Tirumala Nov 18 – 30 Darshan Reschedule Link
Pilgrims can reschedule their tickets for a date in the coming 6 months.
Both up and down Ghat Roads of tirumala are open now.
Alipiri Pathway is open now and pilgrims can utilize it. Srivari Mettu Pathway is currently closed and will take 7-10 days to restore it. We will post an update once it is available.
Tirupati and Tirumala are back to normal and darshan is going on.
We request pilgrims not to follow the old news circulating in the Media / Social Media and think that Tirumala Darshan is closed. If you have any doubts and want to enquire about live situation contact TTD Helpline (08772233333 / 08772277777) or our Tirupati Tirumala Info Team on +91-9110583839
You can also stay tuned to our social media pages for latest updates and quick guidance to plan your Tirupati Yatra.