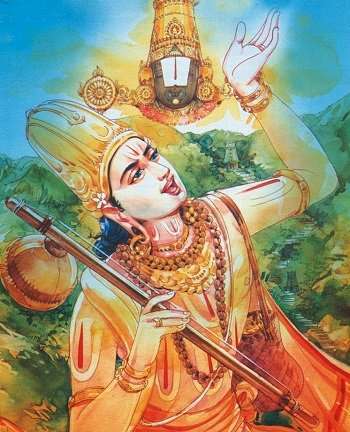 Pitamaha Annamayya
It is not a story, but real incident happened at the Seven Hills near Mokali Mettu which is the birth place of the Divine songs from Annamacharya who is praised as "Andhra Padakavita Pitamaha". He is from the place called "Tallapaka" which is in kadapa Dist. Andhra Pradesh.
Birth of Annamacharya
In 15th Century, there lived a couple named Narayana Suri and Lakkamamba who longed to have children. They went to Tirumala Hills and got the Darshan of Lord Venkateswara. They also prayed to the Lord whole heartedly, prostrated near Garuda Sthambham wishing for child.
One fine day, they dreamt, as though they received Sword Nandakam (which is Vishnu's weapon) given in their hand. They also heard the bell ringing. Suddenly they woke up and realized it was a dream.
After that dream, they got a child by Divine grace of Sri Srinivasa. They named him as "Annamayya".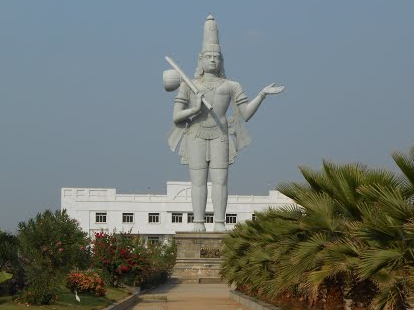 Annamayya Statue at Tallapaka
Early days of Annamacharya
Annamayya was not willing to go to school. He was roaming all day by singing and playing. He was really lazy to do any work. All the relatives and neighbours scolded him. His parents worried of his behavior. In fact, they forgot to pray to Lord Venkateswara who graced them with a child. But God always wanted their devotees to be blessed. It happened in Annamayya's life too. His parents gave him some work so that nobody will scold him anymore. He was asked to cut few grass from the nearby area. Annamayya agreed to do this job.
Divine Journey of Annamacharya
Annamayya took sickle for cutting grass. While cutting, he got injured in his hand and was crying in pain. At the same time, he heard soothing music "Govinda Govinda EduKondala Vada Venkataramana Govinda". He forgot the pain. The team were devotees of Lord Venkateswara. They applied medicine to Annamayya. They also asked Annamayya to come with them to Tirumala Tirupati to get the Divine Darshan of Lord Srinivasa. Annamayya also agreed.
Annamayya's Divine journey started from then on. The team started climbing from Alipiri. It was very hot and somehow Annamayya got lost in the Tirumala Jungle near Alipiri. He felt very tired, thirsty and also very hungry. He almost fainted after climbing few steps. He was all alone in the jungle.
Divine Darshan of Goddess Alarmelmanga
Suddenly he woke up as he heard some Divine voice. But he could not see anybody. Later, he could realize that it was Jaganmatha Alarmelmanga Thayaar, the consort of Lord Venkateswara who resides in Ananda Nilayam. She told that Tirumala hill is the divine Salagrama stone itself, so one should not wear slippers in Tirumala Hill. Annamayya realized that he too was wearing slippers which is absolute sin. He immediately threw it out. By the grace of Goddess, he got the Divine Darshan of Goddess Alarmelmanga. He asked to forgive him for this sin.
The Divine Prasad of Lord Venkateswara
Goddess, pardoned him and offered him the Divine Prasad of Lord Venkateswara. She gave the Divine Prasadam offered to Lord Venkateswara on that day. She asked him to eat full stomach so that he can climb and get the Divine Darshan of Lord Venkateswara.
The Spiritual insight
After having the sumptuous Prasad,  Annamayya got enlightened with Divine feel and started writing poems. He wrote hundred poems praising Goddess Alarmelmanga. She blessed him to go to Tirumala to view the beauty of Lord Venkateswara.
His thirst for viewing Lord Venkateswara increased and he raised his head high viewing the beauty of Tirumala Hill above and started his Divine Musical Journey from there onwards by singing "Adivoalladivo Sri Hari Vaasamu".
Download Annamayya Songs-Mobile App