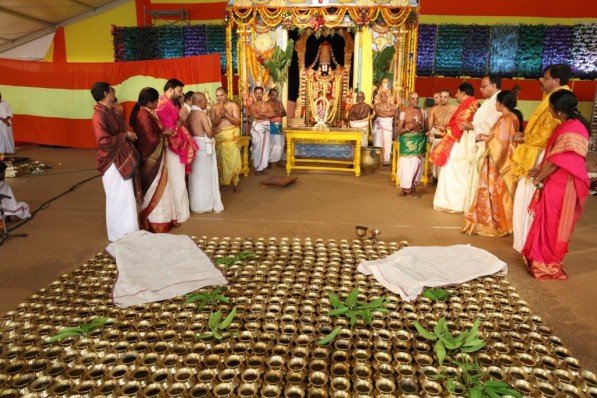 Sahasra Kalasabhishekam Seva
The Sahasra Kalasa Abhishekam seva is offered to Sri Bhoga Srinivasa Murthi-the silver replica deity of Mula Virat, the processional deities of Sri Malayappa Swamy varu along with his two consorts, Sri Viswaksena-the chief commander of Lord. This seva is performed to the deities after the second bell in the morning at the Bangaru Vakili.
The Bhoga Srinivas Murthy is brought outside the Golden doorway and is connected by means of thin silk rope with the Mula Virat inside the Garbhalayam (sanctum). One end of the rope is tied round the feet of the Bhoga Srinivasa Murthy while the other end is placed near the Kathithasta of the Mula Virat, thus symbolically establishing a relationship between the Main deity and the Bhoga Srinivas Murthy to achieve two purposes. Firstly, it becomes clear that Bhoga Srinivasa is representing the Mula Virat and secondly, it makes clear that the Pooja offered to the Bhoga Srinivasa Murthy is nothing but the puja is assumed to have offered to the main deity.
Sri Malayappa Swamy with his two consorts Goddess Bhudevi and Sridevi are also brought from the Sanctum and placed outside the Bangaru Vakili. The idol of Viswaksena is also brought from the sanctum and placed outside the Bangaru Vakili. One Thousand and Eight Silver Vessels filled with Abhisheka Thirtha otherwise known as the "Parimala Teertham"-pure water with the aroma of sandal paste, along with eight more Parivara Vessels and One Gold vessel filled with water are placed in the Mantapam in front of Bangaru Vakili. The archakas recite Pancha Suktas and the Pancha Shanthi Mantras.
Thirumanjana Abhishekam is offered to Sri Bhoga Srinivasa Murthy, Sri Malayappa Swami and his consorts and Viswaksenula varu with the water in the 1008 Kalasas and the other eight Parivara Kalasas. At the conclusion of the Tirumanjanam, the water in the Golden Vessel alone will be carried by one Archaka to the accompaniment of the recitation of Vedas and Mangala Vayidyas, round the Ananda Vimana Prakara, the Dwajasthamba and then taken to the Sanctum Sanctorum.
Then an Archana is offered to the main deity and the water from the Golden Vessel is sprinkled on the Feet of the main deity, thus symbolically including the Mula Virat(main deity) also in the Sahasra Kalasabhishekam. This archana is offered in private where a curtain will be drawn before the Mula Virat, with an Archaka alone inside the temple.
Gathering Point:
Devotees should gather at VQC-I.
Timings:
Seva Performed Only on Wednesday.
Sahasra Kalasabhishekam Seva will be performed from 06:00 – 08:00 AM. Devotees should gather one hour before the Seva time at VQC-I.
Booking:

Sahasra Kalasabhishekam Seva can be booked online(Subject to availability).
For any info required on Sahasra Kalasabhishekam Seva, please leave your comments below. We will get back to you at the earliest.
Read More About Tirumala Sevas