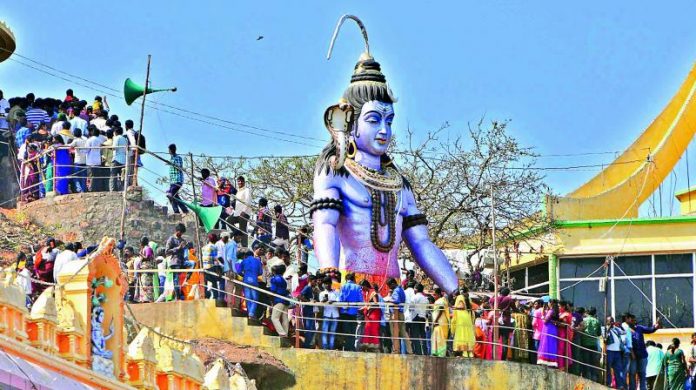 Kotappakonda Temple
is situated in Guntur district, Andhra Pradesh. It is a holy hill and considered as sacred by the visitors. Kotappakonda temple is dedicated to Lord Shiva. This temple is approximately located at 30 minutes' drive from Narasaraopet and hours' drive from Guntur. The hill is called as Trikoteswara Swamy since it is named after the trinity Brahma, Vishnu and Maheshawara (Shiva). A grand festival is celebrated annually known as "Thirunallu festival and is held during Mahashivaratri.
History of Kotappakonda
According to a popular Lori (story) or belief, all the daughters of Daksha Prajapati were married to Devas. His younger daughter Sati was married to Lord Shiva without her fathers consent. The relation between Daksha and Lord Shiva was strained. Once Daksha Prajapati organised a Yagna for which all the Gods were invited but for Lord Shiva.
Sati learns about the Yagna and was fumed by the fact that her father did not invite her husband. She decides to attend the Yagna even tough Lord Shiva advised her not to. When she reached her house, she questioned her father for not inviting his son-in-law (Shiva). Daksha abuses lord Shiva and after a point of time Sati could not tolerate her husbands disrespect. She immolated herself in the fire.
As soon as the news reached, Lord Shiva grew angry and sent Veerabhadra to kill everyone who was a part of Yagna. As per the instructions given by Lord Shiva, Veerabhadra killed everyone including Daksha and ended the Yagna. Lord Shiva performed penance on himself at the hill.
How to Reach Kotappakonda Temple
By Air- the nearest airport is Rajiv Gandhi International Airport, Hyderabad. It takes approximately 5 hours to reach the temple from Hyderabad. Distance from Hyderabad to temple is about 270 km. Tough the temple is closest to Vijayawada airport and one can reach the temple in two and half hours but there are very less flights or no regular flights to Vijayawada from other cities.
By Train- Kotappakonda is just 100 km away from Vijayawada Railway station. The Narasaraopet railway station is closest to the temple and located under 20 km from the temple but this station does not have connection with many cities as Vijayawada does.
By Bus- distance of temple from the major cities around- Vijayawada 99 km , Machilipatnam 165km, Khammam 181 km, Hyderabad 270.
Timings
Temple is opened at 6 in the morning.
Abhishekam – 6:00 AM to 12:15 PM
Closing time – 1:30 PM to 3 PM
The temple re-opens at 3 pm. Ashtotaram and Sarva Darshan takes place at 8 pm.
Timings differ according to occasions like Navratri, Shivaratri. During the annual festival one should be prepared to wait for a long time due to the heavy crowd.