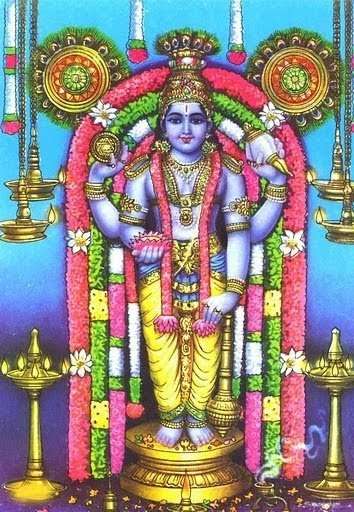 Guruvayur
It is also called 'Dwarka of Southern India', which houses the famous Guruvayur Sri Krishna Temple. Guruvayur Sri Krishna, also affectionately called as "SriGuruvayoorappan", the presiding deity, was installed by Brihaspati and Vayu. Sri Guruvayoorappan is a four-armed form of Lord Krishna in standing posture with a chakra in the right hand, conch shell in the left, and mace and lotus flower in the other two.
Guruvayur Sri Krishna temple, also known as "Bhooloka Vaikuntha", is one of the most enchanting and glorious temples in all of India. 'Krishna… Guruvayoorappa!!' You hear these words quite often in Kerala. Guruvayoorappan has a distinct place in every heart and every household. Many great devotees like Bilvamangala Thakur (the author of Sri Krishna Karnamrita), Poonthanam (an ardent devotee of Sri Guruvayoorappan), and others frequently visited the temple.
Know More – Guruvayur Sri Krishna Temple Timings & Sevas
Guruvayur is 30 km from Thrissur and 80 km from Ernakulam (Kochi). His Divine Grace A.C. Bhaktivedanta Swami Prabhupada, Founder-acarya of International Society for Krishna Consciousness (ISKCON) came to Cochin (Kochi) on 20th August 1965 at the age of 69, on his voyage aboard a cargo ship, Jaladuta, to USA to fulfil the mission of his spiritual master Srila Bhaktisiddhanta Sarasvati Thakura to establish the culture of Krishna Consciousness in the western world.
Temples near by:
Nenmini Sri Balarama Temple – 4 km from Sri Krishna Guruvayur temple
Manganchira Vishnu Temple at Peruvallur – 9 km from Guruvayur
ISKCON – very near to Guruvayur Sri Krishna Temple