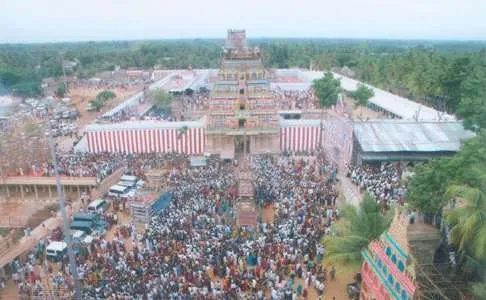 Thirunageswaram Raghu Pooja
Thirunageshwaram is one of the famous temples on the southern banks of river Cauvery. It is one of the Panchakrosa Sthalas. The presiding Deity is Arulmigu Giri Gujambika Sametha Naganathaswamy. The Raaghu Sannathi (Nagaraja Shrine) is usually on the South-West direction of the second prakara. It is believed that performing abhishekam to Rahu (well known as Thirunageswaram Raghu Pooja) with milk will clear all blockages for marriage. Many people believed and it proved good results. Milk turns blue when it is flowing through Rahu and turns back to white when flowing out.
Special Pooja and Homam will be performed whenever Rahu switches from one planet to another planet. This happens once in every 18 months, during this time Rahu Idol is taken our for procession.
Thirunageswaram Raghu Pooja Timings
Day

Morning

Evening

Sunday
9.30 AM
11.30 AM
4.30 – 6.00 PM
Monday
7.30 AM -9.00 AM
           –
5.30 PM
Tuesday
9.30 AM
3.00 – 4.30 PM
5.30 PM
Wednesday
9.30 AM
             –
5.30 PM
Thursday
9.30 AM
1.30 -3.00 PM
5.30 PM
Friday
10.30 AM – 12.00 AM
               –
5.30 PM
Saturday
9.00 – 10.30 AM
11.30 AM
             –
5.30 PM
Tirunageswaram Temple Timings
Temple will be open for Darshan during the below timings
Morning: 6 AM – 12:30 PM
Evening: 4 PM – 8:30 PM
Accommodation Booking Near Thirunageswaram Temple – Click Here
Raghu Pooja Ticket Booking
Pooja Tickets will be issued in the Counter in the Temple Premises. Online / Advance Booking option is not available. Please plan to arrive to temple 1 hour before Rahu Kalam to get the ticket for the pooja.
How To Reach Thirunageswaram Temple
By Bus:
Frequently plying buses are available from Kumbakonam. Temple is 7 KM away from Kumbakonam
By Train:
Nearest and most connected nearest railway station is Kumbakonam.
Thirunageswaram has a railway station but only Passenger trains will be stopped
By Air:
Nearest Airport is Tiruchirapalli Civil Airport which is 98 KMs away from Temple.
You Might Be Interested In the Below