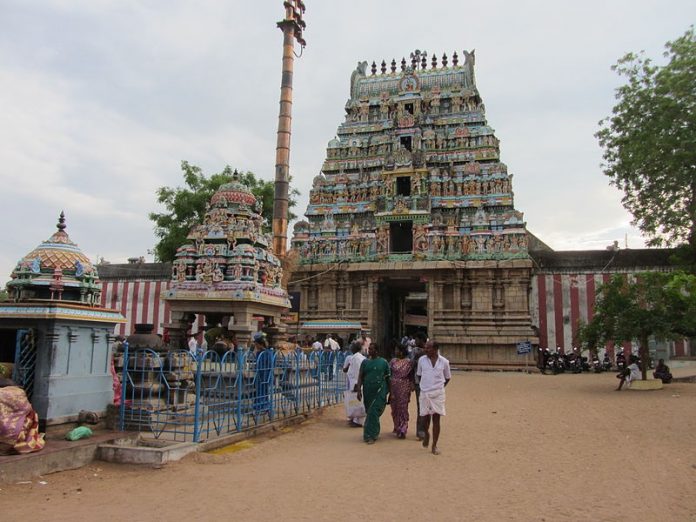 Thirunageswaram Rahu Temple
Thirunageswaram Naganatham temple is also known as Rahu Stalam, is a hindu temple dedicated to the deity Shiva, located in Tirunageswaram, a village in the outskirts of Kumbakonam, a town in Tamil Nadu, India. It is significant to the Hindu sect of Saivism as one of the temples associated with the nine planet elements, the Navagraha Stalas, and specifically Rahu.
Shiva is worshiped as Naganathar, and is represented by the lingam. The Main Idol of this temple was Lord Shiva as "Nageswarar" or "Naganatha Swamy" and Lord Parvathi as "Girigujambikai". In this temple, Ambal is decorated as a small girl in the morning time, young lady in noon time and Lady in evening time. With Goddess, Lord Lakshmi and Saraswathi blessings with Ambal .
Thirunageswaram Temple History
The Mythological Serpents Aadi seshan, Dakshan and Kaarkotagan worshipped Shiva in this temple. Nala worshipped in this temple. Sushila was the saint. Once Ragu did mistake depend on Sushila. So saint Sushila cursed Rahu. Rahu visit the Siva temple in Thirunageswaram in first quarter of the night, Sanbakaranyam in second quarter, Thirupamburan in third quarter, Nagaikaraonam in fourth quarter, Usha time in the fifth quarter. In last quarter, at the Holy Senbaka (Champak) forest in Thirunageswaram, Rahu prayed Naganatha swamy and relieved his curse in this temple.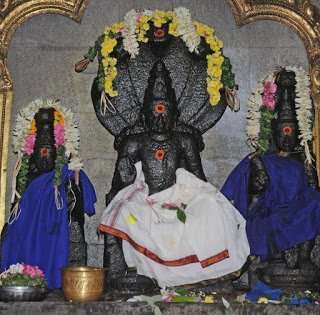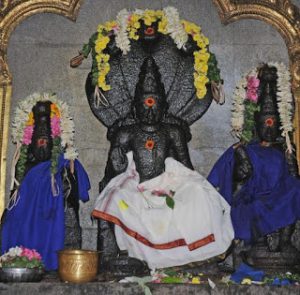 In this Thirunageswaram Rahu temple, there are two shrines for Lord Shiva was Naganatha swamy and Ardhanareeswarar. There are two goddess in this temple are Piriyanivanudalumai and Girugujambigai. For Lord Piriyanivanudalumai, there is no idol for her in this temple. When Indra was cursed by Gowthama Muni, he prayed Parvathi here and standing with Punugu. Day by day upto neck, the idol covered the Goddess. At time Indra arrived the temple, but her face only visible to devotees still now.
Thirunageswaram Rahu Temple Timings
Morning : 6 AM to 1 PM
Evening : 4 PM to 9.30 PM
Address of Thirunageswaram Raghu Temple
Sri Naganatha Swamy Temple,
Sri Raaghusthalam,
Thirunageswaram – 612204,
Kumbakonam Taluk,
Thanjavur District,
Phone No: 0435-2463354
How To Reach Thirunageswaram Raghu Temple
By Bus:
Direct Bus is available from Kumbakonam. Thirunageswaram Raghu Temple is 7 KM away from Kumbakonam.
By Train:
Thirunageswaram has its own Railway station but only few trains will stop here.
Kumbakonam is the next nearest Railway Station which is very well connected to other cities.
By Air:
Trichy is the nearest airport which is 109 KM away from Thirunageswaram Temple.