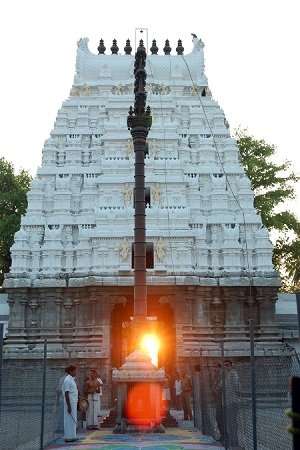 Surya Pooja 
Surya Pooja Mahotsavam will be performed yearly at Sri Vedanarayana Swamy temple  located in Nagulapuram, Chittoor dist. Andhra Pradesh.
Pilgrims will attend this festival from all over the States of AP and Tamil Nadu. The unique feature of the festival is the falling of the sun's rays on the presiding deity of Lord Sri Vedanarayana situated inside the sanctum sanctorum which occurs only once in a year for five days. As it occurs never again in other days of the year, it is considered an supernatural. During these three days, the sunrays fall on the main deity between 06:00 hrs and 06:15 hrs. On the first day, they fall on the feet, on the second – on the chest and on the third – on the forehead, depicting worship by Sri Surya Bhagavan (the Sun God) himself.
Teppotsavam
The annual 5 day Teppotsavams will be observed in this temple with the processional deities taking celestial ride on the boat in the Pushkarini every day between 6:30pm and 7:30pm.
Matsya Jayanthi 
In connection with Matsya Jayanthi, special pooja will be observed in the temple.
Read More About History and Timings of Sri VedaNarayana Swamy Temple, Nagalapuram