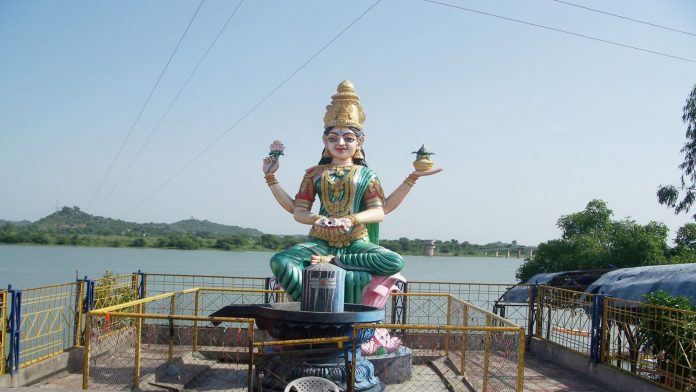 Basara:
Basara is a village with wonderful gardens surrounded by the temple premises. Nizamabad is the nearest town to Basara, its 30 KM from Nizamabad. Basara is situated on the banks of River Godavari. It is located at a distance of about 220-km by road and 190-km by rail from Hyderabad.
Basara Temple:
Basara Temple is ancient temple dedicated to Goddess Saraswathi. The temple at Basar is also the abode of Goddess Lakshmi and Kali. The temple construction dates back to the Chalukya period.
Useful Link : Basara Temple Timings
Children are brought here for the ceremony of Aksharabhyasam to start their education with the blessings of the Goddess of Knowledge.The Vedavathi Sila, the Ashtateertha are other places of interest around Basar. Thousands of devotees bath in the river Godavari & seek the blessings of the Goddess during the Mahashivarathri, Dassera navratris and Vasantha panchami.
One can feel peace, brightness and unlimited joy after entering the temple. The presiding deity, 'Gnana Saraswathi Devi', is in a seated position with a 'Veena' in hand and bedecked with turmeric. Adjacent is the shrine of Goddess Maha Lakshmi and a little distance away, on the eastern side is the Maha Kali temple.
The Legend
Basara Temple Legend / History suggest that Maharshi Veda Vyasa, the author of Mahabharata, came to the forests of Dandakaryana to meditate. He began meditating on the banks of the River Godavari and found the place to be very peaceful. The divine mother is believed to have appeared before the sage and ordered him to build temples for the Shakti trio: Maha Saraswathi, Maha Lakshmi and Maha Kali. The sage Veda Vyasa did so by bringing three handfuls of sand and sculpts out the figures. Basara was initially named after Vyasa and was called "Vyasapuri". Later on it got took names Vasara and ultimately Basara/Basar.
How To Reach Basara Temple?
By Bus:
Direct Bus will be available from MGBS Bus Station , Hyderabad.
By Train:
Basara has its own railway station which is 2 KM away from Temple. Another nearest railway station is Nizamabad.
By Air:
Rajiv Gandhi Internation Airport, Hyderabad is the nearest airport to Basara which is ~260 Away from Basara.