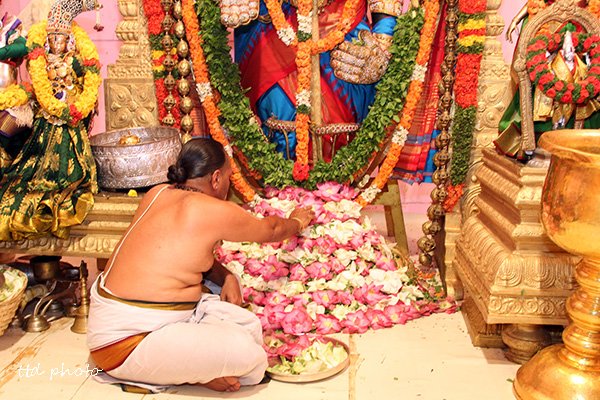 Ashtadala Paada Padmaradhana Seva 
Ashtadala Paada Padmaradhana seva is conducted after the ringing of second bell. This ritual was initially introduced in Srivari Temple in 1984 when a Muslim devotee presented Lord Srinivasa 108 gold lotuses. The Archana begins with the puja by offering dhupa and diva to the key deity. Then he enumerates the Devadasa names of the Lord. While sheering each name of the Lord, one golden lotus is offered at the feet of the lord Srinivasa. On completion of the Archana for the main deity Archana is then offered for Goddess Lakshmi and Goddess Padmavati. After that Ratha aarti is offered first, followed by usual aarti. During this special puja, the arjitha ticket holders are seated in the Antalya corridor that is located between the Kulasekhara padi and Bangaru Vakili.
Gathering Point:
Devotees should gather at VQC-I.
Timings:
Ashtadala Paada Padmaradhana seva will be performed from 06:00 – 07:00 AM on every Tuesday.
Devotees should gather one hour before the Seva time at VQC-I.
Booking:

Ashtadala Paada Padmaradhana Seva can be booked online(Subject to availability).
This seva will be booked under Electronic Lucky DIP, same as Suprabatham.
For any info required on Ashtadala Paadha Padmaradhana Seva, please leave your comments below. We will get back to you at the earliest.
Read More About : Tirumala Sevas