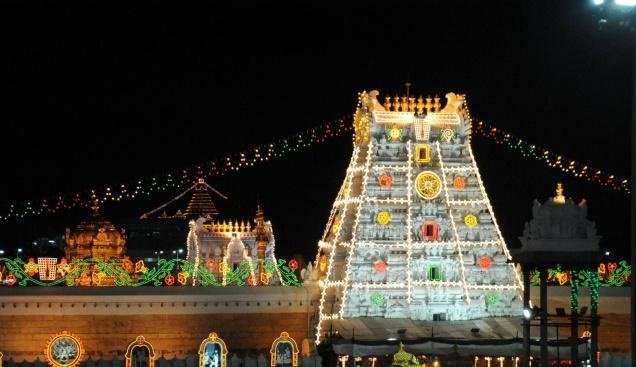 Tirumala Vaikunta Ekadasi 2022
Shuddha Ekadashi in Dhanurmasa is called Vaikunta Ekadasi (13th Jan) at Tirumala. In the early hours of this day, the Vaikunta Dwaram (door) will be opened and will be closed after 10 days.
Vaikunta Dwaram will not be opened in the whole year except during this auspicious period. So there will be huge rush observed on these days due to its importance. It is believed that those who will have Vaikunta Dwara Darshanam during Tirumala Vaikunta Ekadasi 2022 will get Moksham. Vaikunta Dwaram is believed to be 'Gate of Heaven'.
Tirumala Vaikunta Dwaram Opening Dates In Jan 2022
Vaikunta Dwaram will be opened from January 13, 2022 3 AM to January 22, 2022 11:59 PM
How To Book Tirumala Vaikunta Ekadasi Darshan Tickets In Online?
Following ticket options will be observed during the Vaikunta Ekadasi.
Refer this article for quota release information – Tirumala January 2022 Darshan and Rooms Release Info
Rs. 300 Special Entry Darshan Tickets – Online
Free Darshan Tickets – Online 
Special Entry Darshan Under Virtual Seva Category– Online
VIP Break Darshan Under SRIVANI Trust Donation Scheme – Online
Special Passes will be given to VVIP's who come in person – Offline
Please note that VIP Recommendation letters will not be allowed during this period.
How To Get Notified On the Vaikunta Ekadasi Tickets Quota Release Information?
Our team is dedicated to keep the pilgrims updated on the Tirumala Vaikunta Ekadasi 2022 updates. We have follow channels to communicate with us to get notified on the quota release information for vaikunta ekadasi quota.
Subscribe to our site notification by clicking on the bell icon on the bottom left of our website and allow notifications, so that you will receive a push notification to your mobile when the quota release information is confirmed
Follow us on our social media channels to get updates
How To Book Rooms in Tirumala during Vaikunta Ekadasi?
TTD has cancelled advance reservation of all rooms at Tirumala from January 11th to 14th, 2022 due to Vaikunta Ekadasi and Dwadasi fete on January 13th & 14th, 2022 respectively.
The decision of TTD is as a part of its commitment to giving priority to common devotees to book accommodation at Tirumala in current booking on first come first serve basis.
There would be no room allotments at MBC-34, Koustubham rest house, TBC counter, ARP counters from 12:01am of 11th January till midnight of January 14th. Donors shall also cannot claim privilege allotments during the above mentioned period.
All VIPs coming for Srivari Darshan will be allotted rooms at special counters set up in Venkatakala Nilayam, Ramaraja Nilayam, Sita Nilayam, Sannidhanam, Govind Sai Rest houses. If the VIP arrives personally only two rooms will be allocated to them.
All common devotees will be allocated rooms through the general counters of CRO.
For the dates, Jan 15th – 22nd, rooms will release in online and you can book in TTD Official Website or Govinda App. If there is any further communication on the Tirumala Vaikunta Ekadasi 2022 , we will update this page.
During Tirumala Vaikunta Ekadasi 2022 There will be procession for the well-adorned Sri Malayappa Swami along with Sri Devi and Bhu Devi in the golden chariot, followed by Asthanam in the temple.