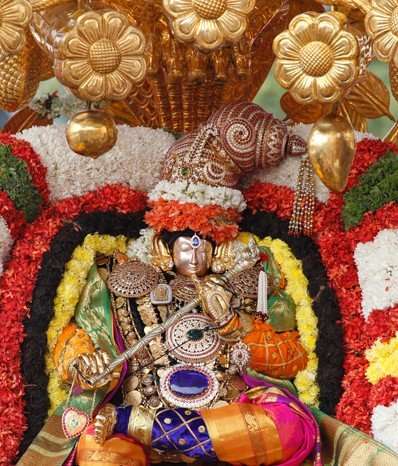 Tiruchanur Padmavati Ammavari Annual Brahmotsavams – 2021
Sri Padmavathi Ammavari Annual Karthika Brahmotsavams will starts from November 30th, 2021 and ends on December 8th, 2021. In view of the Covid pandemic, this nine-day mega religious festival will be observed in Ekantam in Vahana Mandapam at Tiruchanur.
Koil Alwar Tirumanjanam will be observed on November 23rd.
Laksha Kumkumarchana will be performed on November 29th with Ankurarpanam on the same day evening. Devotees who had enrolled for this seva has to watch it live on SVBC Channel from their home, physical participation at temple is not allowed. You can book this seva by clicking on the button below.
Darshan : Those who had participated in the laksha kumkumarchana virtual seva are entitled to get a Rs. 100 Special entry darshan ticket at Padmavathi temple which can be utilized with in 90 days from the seva date.
Schedule for Tiruchanur Padmavati Ammavari Annual Brahmotsavams
Date 
Day
Morning
Night
30-11-2021
Tuesday
Dwajarohanam
Chinna Shesha Vahanam
01-12-2021
Wednesday
Pedda Shesha Vahanam
Hamsa Vahanam
02-12-2021
Thursday
Mutyapu Pandiri Vahanam
Simha Vahanam
03-12-2021
Friday
Kalpa Vriksha Vahanam
Hanumad Vahanam
04-12-2021
Saturday
Pallaki Utsavam
Vasanthotsavam(Evening)
Gaja Vahanam
05-12-2021
Sunday
Sarva Bhupala Vahanam
Garuda Vahanam
06-12-2021
Monday
Suryaprabha Vahanam
Chandraprabha Vahanam
07-12-2021
Tuesday
Sarva Bhupala Vahanam
Ashwa Vahanam
08-12-2021
Wednesday
Chakra Snanam, Panchami Theertham
Dwajavarohanam
Also Read Divine Vahanams of Goddess Padmavathi Devi at Tiruchanur