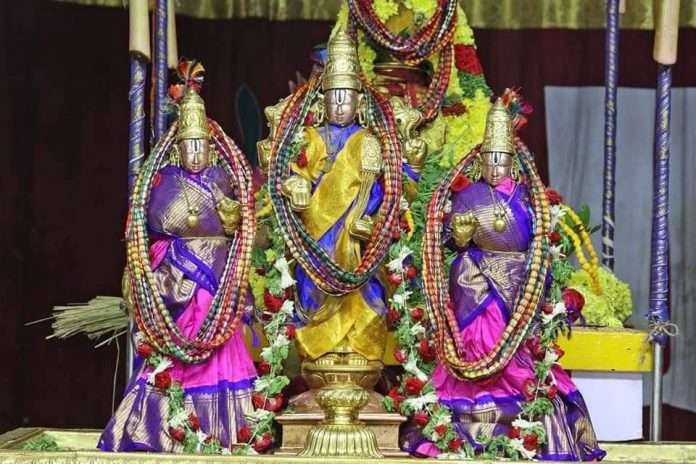 Pavitrotsavams In Tirumala
The Annual Pavitrotsavams in Tirumala will be observed from August 8th and ends on August 10th, 2022 and Ankurarpana will be on August 7th.
TTD will release Pavitrotsavam Tickets (Aug 8th-10th) in online on August 1st at 10 AM.
Visit https://tirupatibalaji.ap.gov.in/ for booking.
Per day TTD will release 600 tickets, cost per head is Rs.2500/-.
Pavitrotsavam Ticket holders can participate in 3 days Snapana Tirumanjanam and Purnahuthi which will be observed on last day.
Pilgrims have to report at Vaikuntam 1 at 7 AM and should carry individual ticket and original photo ID along with them.
Traditional dress is mandatory.
Pavitrotsavams
During the archanas and festivals held in the temple throughout the year, some mistakes are made unknowingly by the pilgrims and the staff. Due to this, the sanctity of the temple is not affected, and the sacred ceremonies are performed according to Agama Shastra.
3 days, there will be Snapana Tirumanjanam between 9 AM and 11 AM.
On August 8th Pavitrala Prathishta will be observed,
On August 9th Pavitra Samarpana will be observed and
On August 10th Purnahuthi will be observed.
In view of Pavitrotsavams in Tirumala, TTD has cancelled Sahasra Deepalankarana seva on August 7th, Astadala Pada Padmaradhana on August 9th and Kalyanotsavam, dolotsavam, arjita Brahmotsavam and Sahasra Deepalankara Sevas from August 8th-10th.