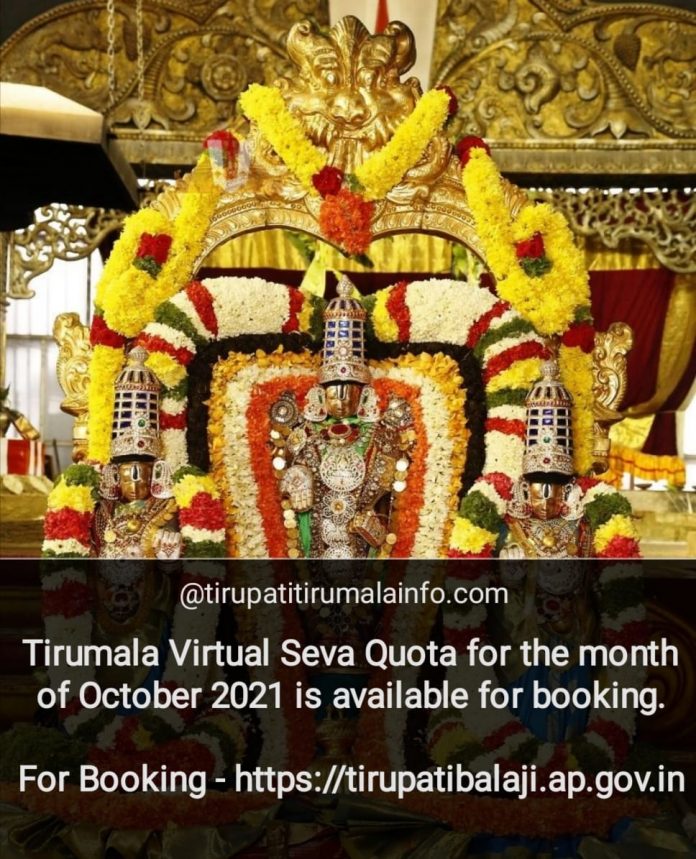 TTD October 2021 Virtual Seva Tickets Online Booking
The online quota of Tirumala Srivari October 2021 Virtual Seva tickets are released.
Various sevas like Kalyanotsavam, Dolotsavam, Arjita Brahmotsavam and Sahasra Deepalankara Sevas are released on today (September 29, 2021 ) in the TTD  official website tirupatibalaji.ap.gov.in .
Check out our article on how to book virtual seva tickets by clicking on the below button.
How To Book Virtual Seva Tickets
Quota of tickets is determined by TTD by following the COVID-19 guidelines by Central and State Governments and would be revised from time to time.
The devotees who book the tickets in online shall avail darshan within 1 year from the time of their seva date. This virtual seva ticket holders will get a Rs. 300 special entry darshan ticket included in that.
October 2021 Virtual Seva Tickets Availability?
Per day ~20,000 virtual seva tickets are released for booking. Hurry up and book fast.
The devotees are requested to make note of all these norms and plan accordingly.