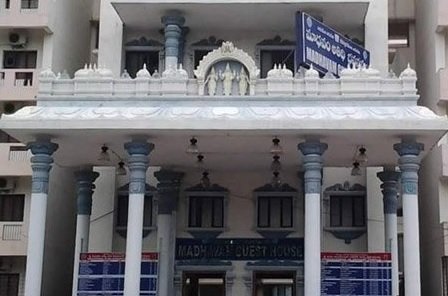 TTD Accommodation In Madhavam

:

Madhavam Guest house is located in the Prime location of Tirupati. It is located just opposite to Tirupati Central Bus stand. Madhavam Cottage is located with in the premises of Srinivasam Complex.

How To Reach Madhavam Guest House:

Madhavam Guest house is 1.8 KM away from Tirupati Railway Station. You can hire an auto for Rs.50 /-

Madhavam Guest House is 400 Meters away from Tirupati Central Bus Stand. Its a 5 minutes walk from Bus Stand. There is a subway available from Bus Stand to Madhavam Complex premises.

Madhavam Complex is 14 KM away from Tirupati Airport located near Renigunta. You can hire a cab for airport pickup.

Madhavam Complex Facilities:

Madhavam Complex has rooms with AC facility at a very reasonable cost.

Lot of parking space available

Rooms are equipped with wardrobe , dressing mirror, clean and well maintained toilet.

Diwan is available in Suit rooms

As it is located with in the compound of Srinivasam complex you can utilize all the facilities available in Srinivasam Complex as well

A/C or Normal Restaurants are available in Srinivsam

You can purchase any toiletries needed(like Soaps, Brush , Paste, Towels, etc) in Srinivsam Complex.

Various nationalised bank counters are available in Srinivasam Complex.

Medical dispensary is also available.

All the basic needs of a pilgrim are available within the Complex.

Madhavam follows 24 Hour check out . If you take a room at 7 AM today, you can check out at 7 AM the next day.

TTD Madhavam Complex Room Rent:

2 types of rooms are available in Tirupati Madhavam Complex. They are A/C room and A/C Suit Room
| | |
| --- | --- |
| Room Type | Rent |
| A/C Suit Room | Rs. 800 /- |
| A/C Deluxe Suit Room | Rs. 999 /- |
How To Book Rooms in Madhavam Complex:
There are various options to book a room in Madhavam Complex. We take the pleasure to list them out. 50% Quota is released in online 60 days in advance. 50% rooms will be available in Current Booking.
One has to show their ID Proof while doing reservation.
One has to submit their finger print .
The person who submitted the finger print while booking can only check out the room.
One day's room rent will be taken as caution deposit which will be returned while check out. Please keep the receipt carefully as it is needed during check out.
One can extend a room for one more day by the room rent in advance at the srinivsam complex. If you want to extend for 2 days you need to pay double the rent , this is laid to avoid misuse.
Rooms will not be alloted to local persons and single occupancy is also not allowed.
Online Booking

TTD has enabled online booking facility for the TTD Accommodation which pilgrims can leverage to have comfortable stay and plan their trip well in advance. – Read more about – TTD Online Booking Facilities
Rooms will be allotted to only the person on whose name reservation is made.
Cancellation of Rooms is now available. You can get full refund.
TTD Madhavam Complex rooms can be booked online using any of the below 2 options.

Current Booking

50% of the rooms will be available under Current Booking for Pilgrims visiting Tirupati.
Pilgrims need to carry valid ID Proof to avail booking.
Caution deposit will be collected at the time of room allotment.
Please keep the receipt safe till you vacate the room.
Only the person who booked the room can checkout the room.
On arrival booking cannot be made for future dates. Can be booked only for that day.
It is one of the most popular TTD accommodation along with Srinivasam and Vishnu Nivasam
If you need any info on Madhavam Guest house , please leave your comment below . We will respond as soon as possible.