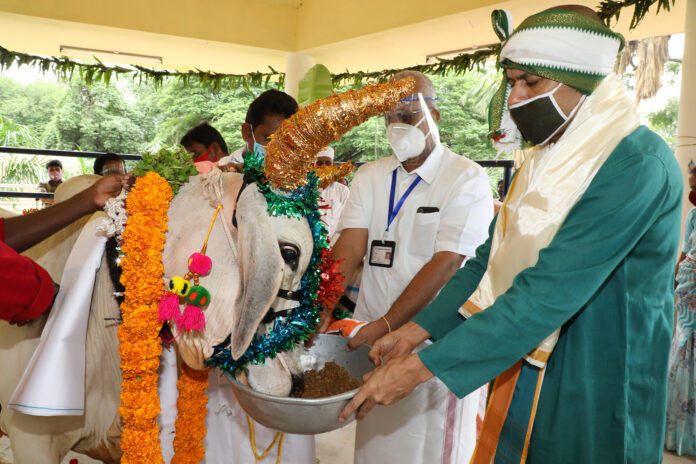 Gopuja Mahotsavam In SV Gosala – Tirupati
Gopuja mahotsava will be held on the occasion of Kanuma festival on 16th January, 2023 at Sri Venkateswara Gosamrakshanashala in Tirupati.
On this occasion, the flute starts from 6 AM.
From 8 AM to 9 AM the students of Sri Venkateswara Vedic School, Tirumala will perform Vedic recitation.
From 8 AM to 10.30 AM, Bhajan with Dasa Sahitya Project artists, Kolatalu and Sankeertana programs with Annamacharya Project artists will be held.
Gopuja, Venugopalaswamy Harati, Tulsi Puja, Gobbemma ceremony, Gajapuja, Ashwapuja, Vrishabha Puja will be performed in the presence of Sri Venugopalaswamy from 10 AM to 11.30 AM.
Cultural programs will be organized from 11.45 AM to 12 noon.
Darshan of Srivenugopalaswami and distribution of prasad will be made from 12 noon.
On the day of Gopuja Mahotsavam, TTD provides an opportunity for devotees to feed jaggery, rice and grass to the cows themselves. Devotees are requested to take advantage of this opportunity and become a part for the grace of Gomata and Swami.
Also Read about Sri Venkateswara Gosamrakshana Trust – Tirumala